Solving Pool Building Moisture and Mold Problems in Cold Climates
J. David Odom
Liberty Building Forensics Group, LLC.
The Problem
Two of the most difficult buildings to design and construct without experiencing severe moisture problems are: 1). Refrigerated buildings in hot, humid climates, and 2). Pool buildings in very cold climates. Inherently, nature never intended for these buildings to exist in these climates with such a contrast between indoor and outdoor conditions.
The moisture and mold problems in cold climate pool buildings often manifest themselves in the wall and ceiling cavity areas (i.e., the interstitial spaces). This occurs because these areas are the transition space between warm and humid inside versus very cold and dry outside. The overwhelming challenge is to prevent the natural (and sometimes man-made) tendency for warm/humid air from reaching a cold, condensing surface anywhere in the building's envelope. What makes this challenge even more daunting is that something close to perfection is required or moisture problems will result.
For any interior building location, including these interstitial spaces, good industry practices include:
●     Relative humidity (RH) measurements should not exceed 70% anywhere inside these cavities for extended periods of time. RH levels that exceed 70% will promote the growth of mold in even relatively short periods of time (anything greater than several days).
●     Wood moisture equivalent levels (WME) should not exceed 20%. WME levels that dramatically exceed 20% will promote rotting of wood materials.
Many factors can cause moisture to move throughout a building but in the case of pool buildings, the most common reasons for this moisture migration are a combination of very important factors:
In a building where interior air pressure (versus outside conditions) is positive, these positive building pressures will push warm, humid air into these interstitial spaces. The amount of moisture that can travel into the building cavities with this air can be dramatic.
This artificially created moisture migration mechanism is exacerbated by a natural tendency of the environmental conditions that exist in a pool building to try to reach equilibrium with outside conditions. This means that warm and damp air will always move always towards a state of cooler and drier conditions.
Any minor design and construction mistakes or shortcomings of these buildings are likely to result in catastrophic failures because of the extremely unforgiving nature of the interior environment that's located in a very cold climate. If there are misplaced (or a complete lack of) air, thermal, or vapor barriers/retarders which allow heat and moisture to migrate into cold cavities, then problems almost always occur.
Many times even though wall cavity moisture problems are occurring only subtle exterior signs of damage can be seen as the moisture attempts to continue its migration from inside to outside of the building. More often than not these trapped moisture conditions go unnoticed for months or years because they occur inside inaccessible wall cavities and it is not immediately obvious. In fact, it is common to see 95% RH in some cavity areas during the colder winter months when the moisture drive mechanisms are the most aggressive. These damp cavity conditions will likely improve during the summer months but will obviously reoccur during the next winter season.
Given the possibility of hidden and seasonally varying moisture problems, it's our experience that one of the best ways to determine if severe conditions are occurring is to use sensors in these cavities and compare the environmental conditions to adjacent spaces. One of the most practical of these sensors is the internet-based wireless sensors that allow the real-time measurement of RH, wood moisture levels, and temperature conditions throughout the wall and ceiling cavities. It's been our experience that these sensors provide an accurate portrayal of the conditions in these spaces. This information allows the building owners to decide on the seriousness of the problem and to assess the effectiveness of any implemented repairs.
Shown below is an example of representative measurements from the interstitial spaces in a cold climate pool building.

Figure 1—Representative temperature/RH and % WME conditions in a pool building's interstitial spaces. Note the bold numbers are where the RH and %WME levels exceed recommended levels. These measurements were made in the interstitial space on both the interior and exterior sides of the thermal insulation. This accounts for the variation in conditions indicating moisture migration into the cavities.
Solutions
There are several solutions to this problem and some are more effective and less expensive, than others. The following solutions are each effective to some degree as stand-alone options; however, when used in combination they create a far better solution for the elimination of moisture flow into these interstitial cavities. (See Figure 2 for an illustration of some of the solutions)
Lowering the RH inside the pool room is often used but is usually only partially effective because pool rooms are humid by nature. While this technique may slightly decrease the interior RH and the natural tendency of moisture migration into the cavities it is almost never effective by itself. Furthermore, this approach can be both costly to implement and will certainly increase energy costs.
Making the interior building air pressures slightly negative versus outdoors will promote the movement of cool, dry air into (and through) the wall and ceiling cavities. This has the effect of drying out minor amounts of the condensation that might occur due to vapor diffusion. This is an often missed solution that can be highly effective in reducing these problems. In fact, it is probably not an overstatement to say that any repair approach must incorporate this feature into the final fix. A failure to correctly address building air pressures will likely result in a repetition of cavity moisture problems, even if other mitigation techniques are implemented.
Designing and constructing effective building wall and ceiling cavities that have the proper barriers located at the correct locations within these interstitial spaces. The goals of these barriers are to:
Reduce humid air flows into these spaces (via the air barrier). Note: This must be done in combination with achieving the proper building air pressurization.
Achieve the correct placement of the dew point location within the wall cavity (sometimes called the first plane of condensation) by installing the proper amount of thermal insulation.
Reduce the amount of moisture migration into the cavities via vapor diffusion by including an effective vapor retarder on the warm interior side of the thermal barrier.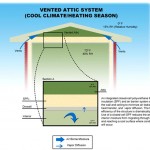 Figure 2 – Airborne moisture and vapor diffusion forces moisture into the wall and ceiling cavities which are blocked by the spray polyurethane foam (SPF). (Note: This figure has been adapted from an original graphic of Icynene Inc ®.)
Liberty Building Forensics Group, LLC. have experts in the analysis and correction of existing problem buildings and in the implementation of preventative solutions in yet-to-be-built structures. Visit their website at www.libertybuilding.com .
For more information about these conditions or any other building-related moisture problems, please contact J. David Odom at d.odom@libertybuilding.com or 407-697-7227.